Ohio's Custom Cabinet Experts
At Chupp Custom Cabinetry, we utilize Envirolak water-based wood coatings. These environmentally friendly wood finishes are ideal for cabinetry, millwork, furniture, and flooring, and come in a variety of stains, dyes, primers, and topcoats. At our Ohio custom cabinetry company, we want to ensure that you have the best options when it comes to water-based wood coatings. That's why we use a wood finish that is better for you, your family, and the environment.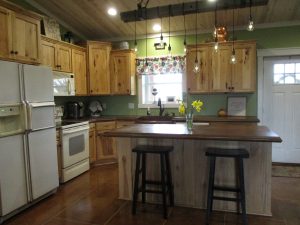 Environmentally Friendly
Envirolak wood stains, paints, and other wood finishes are eco-friendly. Since these wood coatings are water-based and made using sustainable and renewable materials, you can be confident that when you choose an Envirolak wood finish that you are doing something good for yourself and for the environment.
Your Trusted Custom Cabinetry Company
At Chupp Custom Cabinetry, we are a family-owned and operated business that is dedicated to providing our customers with the very best. That's why we are proud to use Environlak wood finishes. To learn more about this water-based wood coating or to request a quote, give the Chupp Custom Cabinetry team a call today.