Custom Bathroom and Cabinetry and Remodeling
Custom bathroom cabinet design in Columbus, Ohio
The Best Bathroom Cabinet Makers In Ohio
Custom cabinets or a custom vanity can help transform any bathroom into a room of comfort and relaxation. Here at Chupp Custom Cabinetry, the top-rated custom cabinet makers in Ohio, we can help turn your bathroom into your favorite space in the house with custom bathroom cabinetry made just for you. Using the best materials from trusted manufacturers, we can design, build, and install high-end custom cabinetry in any bathroom in Ohio. Here at Chupp, we work with you to create the perfect bathroom cabinets or vanity for your home. Keep scrolling to learn more about custom bathroom cabinetry, or contact Chupp Custom Cabinetry to get started on your project today.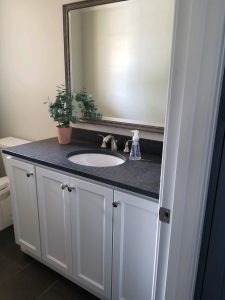 Why Get Custom Bathroom Cabinets?
Upgrade/renovate your bathroom

Improved functionality

Added aesthetics

Improved storage space

Complement modern designs

Be the talk of the neighborhood
Custom Bathroom Cabinet Design In Ohio
Looking to add a look to your bathroom that's truly unique? Custom bathroom cabinets or a custom bathroom vanity from Chupp Custom Cabinetry is the perfect way to make your bathroom design stand out from the rest while also adding functionality and helping to make your bathroom more welcoming to everyone.
Chupp Custom Cabinetry has years of experience building all kinds of custom cabinets for bathrooms big and small. Our team will sit down with you in order to figure out exactly what kind of cabinets or vanity you'd like in your bathroom. After we have an idea of what you'd like, our experts will put together a custom design for your bathroom cabinets. When you have a design that you're happy with, we'll get to work on building your custom cabinetry, making it so that it will fit perfectly in your bathroom. We'll then install your new cabinet or vanity perfectly, transforming your bathroom into a room of peace and relaxation.
When you need high-end custom cabinetry for your bathroom, be sure to partner with the top-rated cabinet company in Ohio at Chupp Custom Cabinetry. We'll work with you to create the cabinets or vanity of your dreams. Contact us to answer any questions and to get started on your custom project with a free estimate.